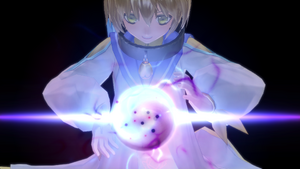 Chaos Bloom (ケイオス・ブルーム, Keiosu Buruumu?) is Laphicet's second mystic arte in Tales of Berseria.
Arte Description and History
Laphicet produces a sphere of light in one hand and a sphere of darkness in the other hand. He then merges both spheres together and crushes them, creating a shock wave that shatters the floor and damages the enemy.
Appearances
Original Titles
Crossover Titles
In-Game Descriptions and Battle Quotes
Tales of Berseria
Japanese Quote: 霊子解放!善なる白と、悪なる黒よ!混じりて消えろ!ケイオス・ブルーム!
Localized Quote: "Spirits, release! The light of virtue, and dark of vice! Join in chaos! Chaos Bloom!"