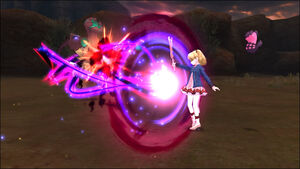 Deadly Gaze (ミリオンヴァイト, Mirionvaito?, "Million Vite") is a Dark-elemental spirit arte exclusive to Elize Lutus from Tales of Xillia 2.
Arte Description and History
Elize conjures a large violet portal in front of her, from which eight streaks of darkness emerge and assault her foe. In Tales of Xillia 2, this arte deals Shot-type damage and has a chance to inflict the "Poison" and "Nausea" status ailments.
Appearances
Original Titles
Cross-Over Titles