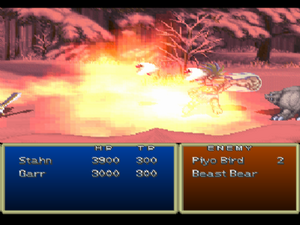 Efreet (イフリート, Ifuriito?), along with Summon: Fire (降霊召符・火, Koureishoufu: Hi?) and Efreet II (イフリートⅡ, Ifuriito II?), are artes that summon the Spirit of Fire, Efreet.
Arte Description and History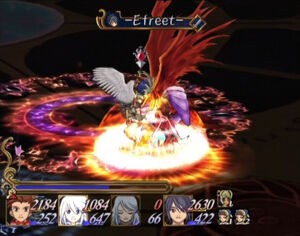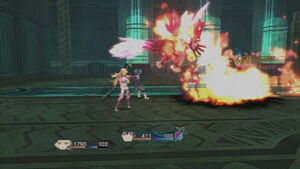 As the arte summoning the Spirit of Fire, all of the artes are fire-related, either in the form of fireballs or explosions.
Efreet first appears in Tales of Phantasia under the command of Claus F. Lester. When summoned, Efreet rains multiple fireballs down on the enemy. The Efreet parody that Gentlewakame (ジェントルワカメ?), the Gentleman wearing the Claus hat in the PlayStation 2 version of Tales of Destiny, summons as its 100% Break Gauge arte Jifneet[1] (自負ニート, Jifuniito?) will also release some fireballs.
As a consumable item in Tales of Destiny, Efreet arrives in a sea of flames before dashing from one side of the screen to the other, fist outstretched and leaving fire in his wake. Tales of Eternia credits Efreet with a massive explosion of fire instead. Tales of Symphonia follows in its wake with Summon: Fire, in which Efreet raises the party's attack power as well. Efreet is also the name of a Fire-elemental spear in Tales of the Abyss and a skill in Tales of Zestiria that enables a chance to reduce Fire-elemental damage.
Appearances
Fan-Translated Names
In-Game Descriptions and Battle Quotes
References
Community content is available under
CC-BY-SA
unless otherwise noted.