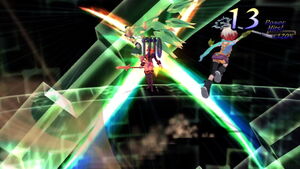 Emerald Strike (G・ソードクロス / グリムシルフィ・ソードクロス, Gurimushirufi Soodokurosu?, "Grim Sylphie Sword Cross") is the first mystic arte obtained by Pascal in Tales of Graces.
Arte Description and History
When this attack is activated, the Spirit of Wind, Grim Sylphie, appears alongside Pascal. Both Grim Sylphie and Pascal race across the field for a short time to gather speed before jumping into the air as they cross paths in front of the target, simultaneously slashing through the enemy with two large blades of wind that form a cross pattern.
Emerald Strike is learned through a title, which is obtained after completing an optional subevent to the west of Gralesyde, along the route toward Lhant, which involves fighting a group of bandits on the road. Alternatively, the attack can be learned after acquiring over 150 mastery skills obtained through titles, which grants a new title that provides access to both the Blast Caliber and its associated combo skill, enabling the attack to be used outside of Eleth Burst after creating a combo of at least 25 hits.
In Japan, the original Wii version of the game uses the name G Sword Cross (G・ソードクロス, G Soodokurosu?) both in the menu and in battle due to space limitations. The PlayStation 3 version removes this limitation during battle, allowing the name to be written in full when it is displayed on the arte banner at the top of the screen.
Appearances
Mothership Titles
In-Game Descriptions and Battle Quotes
Tales of Graces
Japanese Description: LV1秘奥義。エレスライズ中にB+A。グリムシルフィと夢の交差する斬撃。
Japanese Quote: 翠緑の天帝、切り裂いてゴー![1]
Romanized Quote: Suiryoku no tentei, kiri saite goo!
Localized Quote: "O lord of verdure, cut 'em to shreds!"
References
↑ [JP] 術技ボイス (味方 & 敵) テイルズ オブ グレイセス まとめwiki (2010) Retrieved on 2011-01-26.
Community content is available under
CC-BY-SA
unless otherwise noted.