Roblox: DeepWoken - The Loop
Play Sound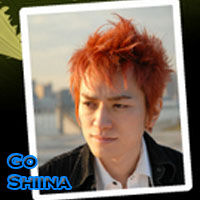 Masaru Shiina (椎名豪, Shiina Masaru?), born May 16, 1974 in Yokohama, Japan and known professionally as Go Shiina, is a Japanese video game composer formerly employed at Bandai Namco Games. He announced his departure from the company via his personal Twitter account in September 2017.
Biography
Shiina was taught how to play the electronic organ from his parents when he was growing up. Although he was not a dedicated musician before becoming a composer, he was, at one time, a member of a Megadeth cover band that also played J-Pop music. After being rejected by 46 companies, including a jewelry company, a finance company, and a fast food company, he was hired by Namco even though he had little prior experience with video games.
Creating music for old arcade releases using Namco's sound trackers felt more like computer programming than composing for Shiina, but he has said that the experience helped him when he would have to use MIDI sounds in future games. The critically-acclaimed soundtrack of Tales of Legendia is perhaps his most well-known work. When he began writing songs for the game, he tried to follow in the footsteps of the usual Tales series composer, Motoi Sakuraba, but after realizing that the game's imagery and story were different from the rest of the series, he was inspired to develop his own style for the music.
Works
Mothership Titles
Escort Titles
Animation
References