Raise a Floppa - The Loop
Play Sound
Haruka Amami (天海春香, Amami Haruka?) is a character from THE iDOLM@STER franchise who makes a cameo appearance in Tales of the Rays. She is also featured as a cameo costume in Tales of Phantasia: Narikiri Dungeon X, among other cameo appearances throughout the Tales series.
Appearance and Personality
Haruka is one of the original idols of THE iDOLM@STER series, originating as one of the playable characters of the first game for arcade systems released in 2005. She is generally featured in advertisements and crossovers as the main character or symbolic representative of the earlier games in the franchise.
As an idol candidate of 765 Productions, one of several talent agencies for promoting new idol singers, Haruka is known as an eternally optimistic individual who challenges the idol music industry despite her remarkably average qualities. She often displays clumsy behavior both on and off the stage, but this never prevents her from trying to do her best during her performances, even when a large crowd witnesses her as she trips and falls. She is also known for her love of sweets, and she loves to bake sweets and pastries for her fellow idols and staff members.
Fighting Style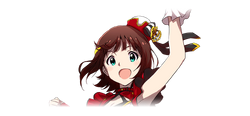 In Tales of Phantasia: Narikiri Dungeon X, one of Haruka's stage outfits, the "Gothic Princess", is available to Mel. This costume grants her various music-themed abilities inspired by Haruka's stage performances. Among these is a normal attack that involves her tripping onto her enemies, emphasing her clumsy tendencies even during battle. While this costume is equipped, the battle theme changes to an instrumental version of "THE iDOLM@STER", the main theme song of the original arcade game and its enhanced ports for the Xbox360 and PlayStation Portable. In Tales of the Rays, Haruka is empowered to fight using songs. She can use her music to heal allies or debilitate enemies.
Other Appearances

Tales of the World: Radiant Mythology
In Tales of the World: Radiant Mythology, various costumes used by Haruka are available in the game as body armor options for the player-created character, regardless of his or her gender. While the Japanese version featured these costumes as downloadable content, they were integrated into the localized release and can be purchased with Grade. The costumes specific to Haruka are the "Gothic Princess A" (ゴシックプリンセスA?), the "Snow Strawberry A" (スノーストロベリーA?), and the "Noel Angelique A" (ノエルアンジェリークA?). All of these are part of the CUTE&GIRLY category of outfits, which are designed to improve an idol's Vocal statistic.
Tales of Vesperia
For the PlayStation 3 and Definitive Edition releases of Tales of Vesperia, Haruka's "Snow Strawberry" outfit is available for Rita Mordio as downloadable content, included among costumes of other Bandai Namco franchises. Furthermore, Tales of Vesperia featured a cross-promotion with THE iDOLM@STER SP on the PlayStation Portable, which included a DLC pack released on February 24, 2010, featuring the outfit used by Estelle as a possible stage outfit known as the "Estelle Ishou" (エステル衣装?, "Estelle Clothing") for all of the playable 765 Productions idols, as well as the rival 961 Production idols of Project Fairy in the online-only Office Mode. This DLC pack also features the basic "Rod" (ロッド?) weapon used by Estelle, which can be equipped as a body accessory which attaches to the idol's back, as well as the "Queen of Hearts" (クイーンオブハート?) shield, which is a hand accessory that binds to the idol's forearm. Both attachments improve the idol's Visual statistic.
Tales of Xillia
Similar to Tales of Vesperia, Tales of Xillia also features one of Haruka's outfits as downloadable content. Elize Lutus can wear Haruka's version of the "Pink Diamond 765" outfit, one of the LUXURY costumes of THE iDOLM@STER 2. While this costume is equipped, the battle theme changes to "GO MY WAY!", one of Haruka's personal favorite songs.
Tales of Zestiria
Tales of Zestiria continues the trend of costumes as downloadable content, with Haruka's "Check MY Note" outfit from THE iDOLM@STER ONE FOR ALL used as a costume for Rose. This outfit also changes the battle theme to "GO MY WAY!" while it is equipped. Additionally, this costume includes a plush attachment version of Haruka and other 765 Production idols, though they are not based on their Puchidol versions from Puchimas! Petit iDOLM@STER.
Tales of Asteria
The mobile game Tales of Asteria also received a collaboration with THE iDOLM@STER Platinum Stars, featuring Haruka as a playable character alongside her idol colleague Miki Hoshii. Haruka's in-game outfit is also shared with Arietta as one of her possible costumes.
Tales of the Rays
Haruka appears during the "A Spirited Debut" event as a collaboration with THE iDOLM@STER Stella Stage. A combination of weakened dimensional barriers due to Dist's monitoring devices and the fervent, idol-focused religion of Arketypes, inhabitants of the library world Ark, combine to call Haruka to Ark. She ends up on the stage of a concert being used to gather the monitoring devices by taking advantage of the Arketypes' religious devotion but is evacuated because the same instability calls monsters to the stage. Haruka has the situation explained to her after being evacuated by the party, though a rampaging Dist begins attacking the people at the concert. Despite having no battle experience, she stands up to Dist to protect her audience, and her resolve causes her to glow with light. Wise Man observes that the reverences that Arketypes hold for the central figure of their religion, Puella Eterna, may has channeled some of their goddess's power into Haruka, allowing her to cleanse the wicked with her songs. Haruka uses her newfound power to protect her audience alongside the party, but as she was summoned due to the unstable barriers, their mending causes Haruka to return to her world. At the last moment, Haruka's fervent wish to stay with her friends lets a shadow of her continue to exist in Ark, capable of joining them in their adventures in Tir Na Nog.
Trivia
Haruka's first image song from the arcade game, Taiyou no Jealousy (

太陽のジェラシー

?

, "Jealousy of the Sun"), is composed by Go Shiina, who is also known as the composer for the music of Tales of Legendia.
Haruka was the only playable collaboration character in the localized version of Tales of the Rays.