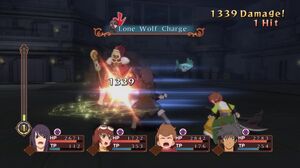 Lone Wolf Charge (戦迅狼破, Senjinrouha?, "War Swift Wolf Break") is an arte in the Tales series.
Arte Description and History
The user punches the enemy and then slams them with a blast of energy in the image of a wolf's head, which can knock down enemies. In Tales of Vesperia, it can also be turned into the altered arte Lone Wolf Storm with "Gale" skill equipped.
Appearances
Original Titles
Cross-Over Titles
Collaborations
Other
In-Game Descriptions and Battle Quotes
Tales of Vesperia
Localized Description: "Arcane Arte: Unleash a burst of power in the form of a wolf."
Alternate Japanese Quote: 狼破!
Alternate Localized Quote: "Lone Wolf!"
Tales of Crestoria
Japanese Quote: 食らえ!戦迅狼破!
Romanized Quote: Kurae! Senjinrouha!
Translated Quote: "Eat this! Senjinrouha!"