This article is based on information from Japanese-only media.
The following content has not been released in the English language, so details are subject to change at any given time.
Meltia Bandi (メルティア=バンディ, Merutia Bandi?) is the past self of Mell in Tales of Phantasia: Narikiri Dungeon and its remake.
History
Revelation
When Norn sends Mell and Dio into the cloud painting, they are tested in combat by Flambelk, Fen Beast, Big Eye, Justona, Ishrantu, and finally, Dhaos, to learn the truth about their past. There, they learn that they were citizens of the country Palace Gudora on the planet Derris-Kharlan. The country was at war with another small country, Palace Sedamyu. When she was 27, Meltia was a scientist working for her country's military. She had secretly been working on a magitechnology-powered weapon known as the Mana Cannon and brushed aside the moral implications of creating such a powerful weapon of mass destruction because she felt that the search for knowledge is more important than anything else. Meltia's work on the cannon fueled the arrogance of her adoptive father, General Bandi, despite the fact that their country was clearly losing the war. In this revelation of the past, Meltia's adoptive brother, Dios Bandi, delivers a message to the general from Dhaos, the prince of the world's largest country, warning them to stop the war because of all the people dying. However, the general ignores this message and continues to act.
As Dios predicted, the enemy country defeats Palace Gudora with a massive attack that results in the loss of approximately 80 percent of its population, as well as the majority of its military forces. Before dying, the general orders Dios to fire the Mana Cannon that Meltia had been preparing. At some point during Palace Sedamyu's attack, Meltia was gravely injured, and when Dios makes it to where she had been working on the Mana Cannon, he finds her covered in blood. She dies shortly afterward. Believing his country to be doomed, Dios realizes the systems of the Mana Cannon are still functional, so he fires it. The blast immediately kills around 150,000 people, as well as the Giant Kharlan Tree, which provided the planet with mana. Dios, feeling the mana fading from his body, then dies himself.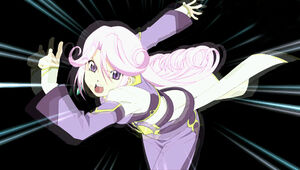 Some of these events were changed in Narikiri Dungeon X. In this game, General Bandi adopted Meltia after her mother abandoned her, as opposed to adopting her as a baby. Also, Meltia is not injured when Dios makes it to the cannon, and she informs him that the cannon will be safe to fire in three days. However, Dios believes there is no time and fires it anyway, resulting in the deaths of 150,000 and the Giant Kharlan Tree, as well as his and Meltia's when the planet's mana begins to fade. In both versions of the game, Norn appears to the two after their deaths and tells them that they must be punished for their actions. She informs them that she will reincarnate them in another time and place in order to determine whether they are good or evil. However, if they gave her any indication of repeating their previous mistakes, she would kill them for good. Meltia and Dios are then sent to Aselia in the year 4395 AC as infants and renamed Mell and Dio, respectively.
Accountability
When Dio and Mell encounter their alternate selves, they witness scenes of the Heroes of Eternity suffering with their problems while their alternate selves comment. Chester Burklight is reminiscing about his dead sister, Ami Burklight, and Meltia wonders whether he runs an orphanage for others' sake or for his own. Suzu Fujibayashi is shown being forced to kill her parents, and Meltia says no one understands the darkness in Suzu's heart—perhaps not even Suzu herself. Afterward, Mell and Dio fight Meltia and Dios, who remind them that this violates the principles of cause and effect and creates a paradox because they have killed their past selves. However, after the fight, they become one with their dark sides again. Finally, Kruelle walks out in front of them and reveals that it has been Norn the whole time. As their final test, Mell and Dio must defeat Norn in battle. After they win, Norn says that the flow of time will correct them. They are once again reborn, and their adoptive parent, the player, finds them as babies again.
Community content is available under
CC-BY-SA
unless otherwise noted.