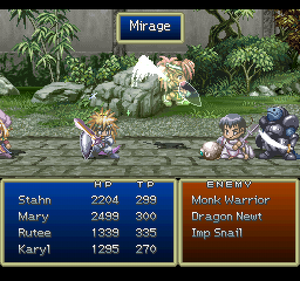 Mirage (陽炎, Kagerou?, "Heat Haze"[1]) is a recurring strike arte in the Tales series.
Arte Description and History
The user fades like a mirage and then reappears above the enemy to perform a strong downward strike on their head. In Tales of the Rays, Dio's version is Fire-elemental and when activated during Class Up it will alter into Kagerou Zetsuen.
Appearances
Original Titles
Cross-Over Titles
Other Titles
Fan-Translated Names
In-Game Descriptions and Battle Quotes
Tales of Destiny (PSX)
Localized Description: "A surprise attack based on confusing the enemy with an after image of the user."[2]
Tales of the Rays
User: Garr Kelvin
Japanese Description:
残像を残して消え上空から強襲する
術技強化で空中でも連携可
6連携目以降で発動すると『絶影』に変化
User: Dio
Japanese Description: 残像を残して消え上空から強襲する
References