Project X Zone 2, known in Japan as Project X Zone 2: Brave New World (プロジェクト クロスゾーン2:ブレイブニューワールド, Purojekuto Kurosu Zon 2: Bureibu Nyu Warudo?), is a crossover tactical role-playing game for the Nintendo 3DS developed by Monolith Soft and published by Bandai Namco Entertainment. It is the sequel to Project X Zone. Although the game is primarily a crossover between Capcom, Sega and Bandai Namco Entertainment, as with the previous installment, characters from Nintendo's Fire Emblem Awakening and Xenoblade Chronicles also make an appearance. The title arrived in Japan on November 12, 2015; North America on February 16, 2016; and Europe on February 19, 2016.
Characters
Like its predecessor, Project X Zone 2 features pairs of characters from all three participating companies, as well as solo characters who can provide assist attacks during combat. From the Tales series, Yuri Lowell and Flynn Scifo from Tales of Vesperia are included as one of the main Pair Units, whereas Estelle, also from Vesperia, is included as a Solo Unit, capable of being assigned to Pair Units and acting as an assist. In addition, Zagi, an antagonist in Vesperia, is featured as an Enemy/Rival Unit, being non-playable. All four characters retain their original voice actors.
Gameplay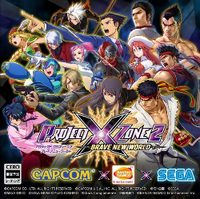 Like its predecessor, Project X Zone 2 is a tactical role-playing game in which players strategically maneuver their characters across a field to battle with the enemy. Characters are paired into Pair Units, with Solo Units consisting of a single character able to assist them when linked together. In battle, players use well-timed attacks and combos to do as much damage to the opponent as possible before their turn ends.
External links
Community content is available under
CC-BY-SA
unless otherwise noted.