Renegades (レネゲード, Rinegeedo?) are members of an organization that works against the Desians in Tales of Symphonia. Founded by Yuan Ka-Fai, serving as a double agent, the organization's primary goal is to ruin Cruxis's efforts by killing the Chosen so that Martel Yggdrasill may not be resurrected.
History
Before the events of the story, the Renegades brought information to Tethe'alla about the nature of the two worlds. The organization convinced the King and Pope of Tethe'alla to assassinate the Chosen from Sylvarant by claiming it to be the only way Tethe'alla will truly prosper. Mizuho sends one of their top assassins, Sheena Fujibayashi, to the task.
Members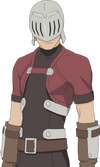 Community content is available under
CC-BY-SA
unless otherwise noted.