Fire Emblem Warriors: Three Hopes - The Loop
Play Sound
Tales of the World: Radiant Mythology 2 (テイルズ オブ ザ ワールド レディアント マイソロジー2, Teiruzu obu za Waarudo Redianto Maisorojii Tsuu?) is the sixth entry in the Tales of the World series, and the second entry in the Radiant Mythology series. Like other games in the series, it features a group of characters from various Tales games. Nearly 50 characters from the series make an appearance. The game's characteristic genre is "For Your Sake RPG" (きみのためのRPG, Kimi no tame no RPG?).
Characters
Like its predecessor, the game sees a new original cast, as well as several new returning characters from other titles in the series. The game also adds a few new job classes for the player to unlock and change into.
Original Characters
Returning Characters
Gameplay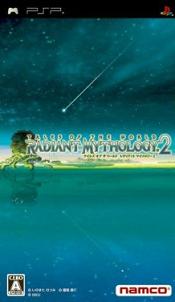 Battle System
Like its predecessor, Radiant Mythology 2 utilizes the Flex Range Linear Motion Battle System from Tales of the Abyss. The free run system is accessible through the PlayStation Portable's analog stick.
Job System
Radiant Mythology 2 includes the job system, that allows players to change jobs by talking to the Guild leader. Unlike Radiant Mythology that had the same system, players do not get need to unlock jobs by fighting characters; they are simply unlocked when a player reaches a certain level on a certain job. To change the characters job players still need to use Grade points to transform into them.
Presentation
The game's average story events are either told by regular CG graphics or by skits. Unlike the previous Radiant Mythology game, Radiant Mythology 2 includes short anime cutscenes to tell major story events, but some of them are just slide shows of images and background noises, the only true anime cutscenes in the game are the opening movie, awakening of the Descender, and the ending.
Music
The opening song for the game is "Flyaway" by Back-On. Most of the soundtrack in Tales of the World: Radiant Mythology 2 are from the past Tales installments, the game does include some new battles tracks and a renewed version of Pasca Kanonno's theme.
Version History
Game Title
System
Catalog Number
Release Date
Region
Tales of the World: Radiant Mythology 2
テイルズ オブ ザ ワールド レディアント マイソロジー2
PlayStation Portable
-
October 11, 2008
Japan (TGS 2008 Demo)
Tales of the World: Radiant Mythology 2
テイルズ オブ ザ ワールド レディアント マイソロジー2
PlayStation Portable
UCAS-40244
ULJS-00175
ULJS-19044
January 29, 2009
January 29, 2009
September 30, 2010
Asia
Japan
Japan ("PSP the Best")
Bonus Material
When pre-ordering the game in Japan, it is possible to obtain a bonus along with the game. The bonus is called Golden Gumi Dramatic DVD. Contents include:
Chat Drama: Viva Tales of - Golden Victory
Tales of the World: Radiant Mythology 2 manga chapters 1 and 2
Golden Victory Special Interview
Game Setting Collection
Tales of the World: Radiant Mythology 2 HQ Opening Movie
Tales of the World: Radiant Mythology 2 Promotional Movies 1 and 2
Tales of the World: Radiant Mythology 2 Special Battle Movie
External Links