Listed here are the Craymel Artes Keele Zeibel begins with, as well as all Team Skills available to him. For the Craymel Artes Keele shares with Meredy, see ToE - Craymel Artes.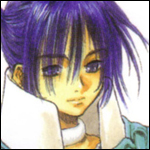 Craymel Artes (晶霊術 - Shoureijutsu)
Arte Name
Elemental Attributes
Max Hits
Casting Time (seconds)
TP Cost
Requirements
Aqua Edge
アクアエッジ
Water
1
 ?
4
-
Wind Blade
ウィンドカッター
Wind Cutter
Wind
2
 ?
7
-
Fireball
ファイアボール
(Fire Ball)
Fire
3
 ?
7
-
Team Skills (協力技 - Kyouryokuwaza)
For Team Skills to be used, the corresponding craymel arte must finish casting at the same time as the associated physical arte is used. All damage modifiers are associated with the user of the physical arte.
References
Community content is available under
CC-BY-SA
unless otherwise noted.