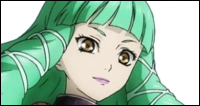 The following a list of all artes available to Emeraude in Tales of Graces. All artes that are exclusive to the PlayStation 3 version of the game are highlighted with a gray background.
Arte Name
Arte Type
Damage Type
Requirements
Killing Field
キリングフィールド
Magic Arte
-
-
Whirlwind
ホワールウィンド
Magic Arte
-
-
Decisive Saber
ディサイドセイバー
Decide Saber
Mystic Arte
-

Eleth Break must be active
activated after staggering an enemy
Community content is available under
CC-BY-SA
unless otherwise noted.