Raise a Floppa - The Loop
Play Sound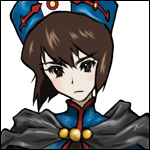 Base Eres (特技 - Tokugi)
Arcane Eres (奥義 - Ougi)
Compound Eres (我流奥義 - Garyuu Ougi)
Once Chloe masters various compatible base eres, these eres can be compounded together to create new eres that can be used to counter all attacking enemies during battle. Every counter receives a boost to damage when used against specific classes of enemies, but all counters can be used against any enemy. All of Chloe's compound eres are counters.
An additional base or arcane eres can be compounded to the counter to cause an added status effect to the enemy when it is countered successfully. The eres that corresponds with each status effect remains available and unchanged for every counter.
When a counter is initialized, Chloe stands in a guarding position for 5 seconds, waiting to be hit by an enemy. If she is attacked, the damage is blocked and the counterattack activates automatically. If Chloe is not hit within 5 seconds of activating the counter stance, the counter is cancelled automatically and no TP is consumed.
Each eres must be mastered (used 50+ times) to become available during the compounding process. Only one compound eres can be created at any given time per character.
Additional Status Effects
Eres Name
Properties and Effects
Demon Fang
魔神剣
Majinken
Twin Demon Fang
魔神剣・双牙
Majinken Souga
(Double Demon Fang)

decreases physical defense for enemies damaged by the arte

Lightning Tiger Blade
襲爪雷斬
Shuusouraizan

inflicts Freeze on enemies damaged by the arte

Sword Rain Demon
驟雨魔神剣
Shuu'u Majinken

decreases physical attack power for enemies damaged by the arte

Sword Rain Tiger
驟雨虎牙破斬
Shuu'u Kogahazan

decreases physical defense for enemies damaged by the arte

Tiger Tempest
虎牙空裂斬
Koga Kuuretsuzan

decreases accuracy for enemies damaged by the arte

Demon Fang Blast
魔神剣・絢舞
Majinken Kenbu

decreases physical attack power for enemies damaged by the arte

New Moon Rising
月影昇舞
Getsueishoubu

inflicts Bind on enemies damaged by the arte

Sword Rain Phantom
驟雨幻晶剣
Shuu'u Genshouken

decreases physical defense for enemies damaged by the arte

Tempest Gambit
迅羽空裂斬
Jin'u Kuuretsuzan

decreases accuracy for enemies damaged by the arte

Sword Rain: Omega
霧沙雨
Kirisazame

inflicts Bind on enemies damaged by the arte

Shining Storm Rising
昇舞神風閃
Shoubu Jinpuusen

inflicts Freeze on enemies damaged by the arte

Demon Fang Fury
魔神剣・瞬牙
Majinken Shunga

inflicts Bind on enemies damaged by the arte

New Moon Lightning
紫電月影刃
Shiden Getsueijin

inflicts Panic on enemies damaged by the arte
References