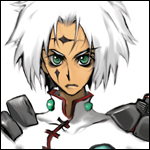 Base Eres (特技 - Tokugi - "Base Artes")
Eres Name
Enabled Effects
Elemental Attributes
Max Hits
TP Cost
Level
Requirements
Demon Fist
魔神拳
Majinken
-
-
1
4
default
-
Shadow Rush
幻竜拳
Genryuuken
-
-
1
4
2
-
Impact
迫撃掌
Hakugekishou
Knockdown
-
2
5
4
-
Dragon Blast
噴竜撃
Funryuugeki
-
-
2
8
11
-
Talon Strike
鷹爪脚
Yousoukyaku
-
-
2
9
15
-
Coil
剛招来
Goushourai
-
-
-
11
19
-

increases own physical attack power temporarily

Swallow Dance
飛燕連脚
Hienrenkyaku
-
-
4
13
23
-
Talon Storm
連牙弾
Rengadan
-
-
6
14
27
-
Whirlwind Dash
輪舞旋風
Rondosenpuu
(Whirlwind Snap)
-
-
2
16
31
-
Twin Demon Fist
魔神拳・双牙
Majinken Souga
(Double Demon Fist)
-
-
2
17
35
-
Dragon Crush
臥竜砕
Garyuusai
-
-
1
19
39
-
Wyrm Rush
爆竜拳
Bakuryuuken
-
-
6
21
44
-
Beast
獅子戦吼
Shishisenkou
Knockdown
-
2
23
49
-
Talon Blast
爆牙弾
Bakugadan
Knockdown
-
11
27
59
-
Phoenix Strike
鳳凰天駆
Hououtenku
(Rising Phoenix)
Knockdown
Fire
1
31
69
-
Base Eres Throws
All throws require the targeted enemy to be knocked down. When a throw is used against a lighter enemy than intended, the activated throw's name will be displayed at the top of the screen, but the appropriate throw will be used automatically and without TP penalty.
Eres Name
Elemental Attributes
Max Hits
TP Cost
Level
Requirements
Ground Slam
軽岩砕落撃
Keigan Sairakugeki
-
1
6
6
-

throws "Feather" size enemies only

Stone Crush
煉岩崩落撃
Rengan Hourakugeki
-
1
10
17
-

throws "Light" size or smaller enemies

Landslide
礫岩迫落撃
Rekigan Hakurakugeki
-
1
13
25
-

throws "Middle" size or smaller enemies

Avalanche Drop
巨岩裂落撃
Kyogan Retsurakugeki
-
1
17
33
-

throws "Heavy" size or smaller enemies

Rending Earth
嶽岩絶落撃
Gakugan Zetsurakugeki
-
2
20
42
-

throws "Massive" size or smaller enemies

Lord of Creation
万物神追撃
Banbutsu Shintsuigeki
-
1~5
40
99
-

throws all enemies regardless of size or class
Arcane Eres (奥義 - Ougi - "Arcane Artes")
Compound Eres (我流奥義 - Garyuu Ougi)
Once mastered, all of Senel's throws can be compounded with compatible base eres to create new throws that can be used against various "special" size enemies, which cannot be thrown otherwise until reaching level 99 to obtain the final throw Lord of Creation. Every compound throw is unique to certain classes of enemies, and the throws will not work against other creatures. All of Senel's compound eres are throws.
An additional base or arcane eres can be compounded to the new throw to cause an added status effect to the enemy when it is thrown successfully. The eres that corresponds with each status effect remains available and unchanged for every compound throw. The additional status effects do not apply to the compound throws Nerifes Crush or Killing Time.
Each eres must be mastered (used 50+ times) to become available during the compounding process. Only one compound eres can be created at any given time per character.
Additional Status Effects
Eres Name
Additional Effects
Demon Fist
魔神拳
Majinken
Impact
迫撃掌
Hakugekishou

decreases physical attack power for targeted enemy

Talon Strike
鷹爪脚
Yousoukyaku

inflicts Poison on the targeted enemy

Swallow Dance
飛燕連脚
Hienrenkyaku

inflicts Burn on the targeted enemy

Whirlwind Dash
輪舞旋風
Rondosenpuu
(Whirlwind Snap)

inflicts Paralysis on the targeted enemy

Talon Blast
爆牙弾
Bakugadan

inflicts Poison on the targeted enemy

Demon Shadow
魔神幻竜拳
Majin Genryuuken

decreases accuracy for targeted enemy

Demon Blast
爆撃掌
Bakugekishou

decreases physical defense power for targeted enemy

Divine Dragon
神竜撃
Shinryuugeki

inflicts Burn on the targeted enemy

Impact Coil
迫撃剛招来
Hakugeki Goushourai

decreases physical attack power for targeted enemy

Phantom Dragon Dance
飛連幻竜拳
Hiren Genryuuken

decreases accuracy for targeted enemy

Swallow Storm
連牙飛燕脚
Renga Hienkyaku

inflicts Paralysis on the targeted enemy

Demon Strike
魔神拳・竜牙
Majinken Ryuuga

inflicts Poison on the targeted enemy

Wyrm Crush
砕臥爆竜拳
Saiga Bakuryuuken

inflicts Panic on the targeted enemy

Beast Impact
迫撃戦吼
Hakugekisenkou

inflicts Burn on the targeted enemy

Whirlwind Talon Blast
輪舞爆牙弾
Rondo Bakugadan

inflicts Panic on the targeted enemy

Dragon Strike
竜凰天駆
Ryuuoutenku

inflicts Inflict Death on the targeted enemy

Lord of Creation
万物神追撃
Banbutsu Shintsuigeki
References