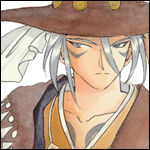 The following is a list of artes that are available to Claus F. Lester in the PlayStation, Full Voice Edition, Cross Edition, and iOS versions of Tales of Phantasia. All elements exclusive to the Cross Edition are highlighted with a gray background.
Summoning (召喚術 - Shoukanjutsu)
Mystic Artes (秘奥義 - Hi Ougi)
Arte Name
Elemental Attributes
Damage Spread
Max Hits
TP Cost
Requirements
Marukute Kiiroi
Sugoi Yatsu
丸くて黄色いすごいヤツ
-
-
-
100

HP must initially be full
HP must then be decreased to below 25% of max HP, indicated by the word "POWER" which appears above Claus's TP gauge or over his portrait
activate by pressing the

"Attack"

+

"Artes"

+

"Guard"

buttons
can use the arte more than once a battle by healing back to max and then lowering to 25% again

summons Pac-Man to heal 765 HP to all allies
References
Community content is available under
CC-BY-SA
unless otherwise noted.