Raise a Floppa - The Loop
Play Sound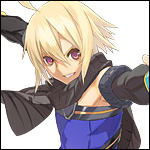 Base Artes (特技 - Tokugi)
Arte Name
Enabled Effects
Elemental Attributes
(Minor Elements)
Total Damage (%)
Max Hits
TP Cost
Level
Requirements
Demon Fang
魔神剣
Majinken
Aerial
-
120
2
5
event

become the Knight of Ratatosk (event)

Dark (1)
230
3
Havoc Strike
崩蹴脚
Houshuukyaku
Aerial
-
200
1
5
4
-
Fire (1)
300
3
Ravaging Tiger
虎乱蹴
Koranshuu
Aerial
-
150
3
5
8
-
Lightning (1)
350
5
Savage Reaper
穿孔破
Senkouha
-
-
180
2
5
12
-
Light (1)
380
4
Phoenix Rush
鳳翼旋
Houyokusen
Aerial
-
230
2
9
18
-
Wind (1)
445
4
Blade Fury
瞬連刃
Shunrenjin[1]
-
-
140
4
10
22
-
Ice (1)
240
5
Fiend Fusion
獣招来
Juushourai[2]
-
-
-
-
7
28
-
Earth (1)
400
4

increases own movement speed by 3% for 45 seconds if Solum is not equipped
increases own defense by 3% for 30 seconds if Solum is equipped

Auto Item
オートアイテム
-
-
-
-
0
30
-

enables automatic use of an item through an arte shortcut
allows use of items while not controlled by the player

Raining Fangs
空牙衝
Kuugashou
Aerial
-
248
5
16
35
-
Water (1)
400
4
Arcane Artes (奥義 - Ougi)
Unison Attacks (ユニゾンアタック)
Unison Attacks can be activated by pressing the "Artes" button when the Unison Gauge is filled by at least 50% and consumes 50% of the gauge on use. They can only be activated by Emil Castagnier or Marta Lualdi while either is controlled by the player. Ars Nova will override all other attacks if all conditions are met. Devil's Maw will override all other characters' attacks if the conditions are met, while Emil is in the active party but not controlled by the player.
Arte Name
Elemental Attributes
Total Damage (%)
Max Hits
Requirements
Devil's Maw
魔王地顎陣
Maou Chigakujin
Dark
650
10
Ars Nova
アルス・ノヴァ
Light
2400
18

both Emil Castagnier and Marta Lualdi must be in the active party
both characters must have the Special skill equipped
activate a Unison Attack when both Light and Dark element symbols are on the Elemental Grid
the "Unison Gauge" must be filled at least halfway through, but not completely
Mystic Artes (秘奥義 - Hi Ougi)
Arte Name
Elemental Attributes
Total Damage (%)
Max Hits
TP Cost
Requirements
Devil's Hellfire
魔王獄炎波
Maou Gokuenha
Dark
3000
22
50

the skill Special (Level 30) must be equipped
the Unison Gauge must be red
activated by holding the

"Artes" button

button during any arcane arte

Ain Soph Aur
アイン・ソフ・アウル
Light
600
7
1~100

increases in power by 1% for every monster ally
Notes
↑ Despite having the same pronounciation in Japanese, Shunrenjin (瞬連刃) has different kanji from Shunrenjin (瞬連塵) used by Veigue Lungberg in Tales of Rebirth. Both attacks might still be considered to be related, however.
References