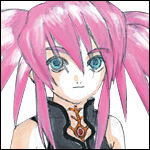 Base Artes (特技 - Tokugi)
Arte Name
Enabled Effects
Elemental Attributes
(Minor Elements)
Total Damage (%)
Max Hits
TP Cost
Requirements
Destruction
爆砕斬
Bakusaizan
-
Earth (1)
210
4
4
-
Punishment
裂旋斧
Ressenbu
-
-
175
1
4
-
Infliction
孤月閃
Kogetsusen
(Crescent Strike)
-
-
150
1
3
-
Devastation
崩襲撃
Houshuugeki
-
-
200
2
6
-
Dual Punishment
双旋連斧
Sousenrenbu
-
-
250
2
12
-
Auto Item
オートアイテム
-
-
-
-
0
-

enables automatic use of an item through an arte shortcut
allows use of items while not controlled by the player
Arcane Artes (奥義 - Ougi)
Unison Attack (ユニゾンアタック)
Unison Attacks can be activated by pressing the "Artes" button when the Unison Gauge is filled by at least 50% and consumes 50% of the gauge on use. They can only be activated by Emil Castagnier or Marta Lualdi while either is controlled by the player. Ars Nova, Emil Castagnier's Devil's Maw, and Marta Lualdi's Divine Saber will override all other characters' attacks if the conditions of any attack is met, while that character is in the active party but not controlled by the player.
Mystic Artes (秘奥義 - Hi Ougi)
Arte Name
Elemental Attributes
Total Damage (%)
Max Hits
TP Cost
Requirements
Crimson Devastation
緋焔滅焦陣
Hien Messhoujin
Earth
5000
4
50
References
Community content is available under
CC-BY-SA
unless otherwise noted.