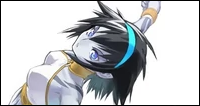 The following a list of all techs available to Celsius in Tales of Symphonia. All techs exclusive to the PlayStation 2 and PlayStation 3 versions of the game are highlighted with a gray background.
Arte Name
Arte Type
Elemental Attributes
Requirements
Beast
獅子戦吼
Shishisenkou
Strike Arte
-
-
Swallow Dance
飛燕連脚
Hienrenkyaku
Strike Arte
-
-
Ice Spear
氷槍陣
Hyousoujin
Strike Arte
Ice
-
Shattering Roar
獅吼氷砕撃
Shikou Hyousaigeki
Arcane Arte
Ice
-
Ice Tornado
アイストーネード
Magic Arte
Ice
-
Freeze Lancer
フリーズランサー
Magic Arte
Ice
-
Absolute
アブソリュート
Magic Arte
Ice
-
Community content is available under
CC-BY-SA
unless otherwise noted.