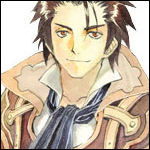 Martial Artes (武身技 - Bushinwaza)
Arte Name
Enabled Effects
Elemental Attributes
Sub-Status Attributes
[1]
Damage Effect
[2]
Damage Spread
Total Damage (%)
Max Hits
TP Cost
Requirements
Demon Fang
魔神剣
Majinken

Stand Up

-
-
-
?
?
2
6

the projectile penetrates targets after 400 uses
forces downed enemies to stand after 400 uses

Tiger Blade
虎牙破斬
Kogahazan
Aerial
-
-
-
?
?
2
9

attack speed increases after 200 uses

Sonic Thrust
瞬迅剣
Shunjinken

Aerial

-
Agility
-
?
?
1
8

aerial-enabled after 100 uses

Variable Trigger
ヴァリアブルトリガー
-
Fire
Dexterity
Burn
?
?
1
10
Tornado Drive
閃空裂破
Senkuureppa
(Light Spear)
Aerial
Light
-
Confusion
?
?
2
12
Arc Fire
タイドバレット
Tide Bullet

Stand Up

Fire
-
Burn
?
?
3
10

forces downed enemies to stand after 200 uses

Guardian Field
守護方陣
Shugohoujin
-
Light
Psyche
Confusion
?
?
4
15

heals up to 15% of max HP at a rate of 5% HP per burst
heals up to 24% of max HP at a rate of 8% HP per burst after 400 uses

Punishing Shot
エアリアルバレット
Aerial Bullet
-
Wind
-
Paralysis
?
?

3/4

14

adds an additional hit after 200 uses

Moonlight Cleft
真月閃
Shingetsusen
-
-
-
-
?
?
2
16
Squall Shot
レインバレット
Rain Bullet
-
Water
-
Weak
?
?
1~24
17
Terra Rupture
地竜閃
Chiryuusen
-
Earth
-
Slow
?
?
2
13

pulls enemies towards Alvin after 200 uses

Homing Shot
チェイスバレット
Chase Bullet
Aerial
Dark
Dexterity
Terror
?
?
1
12

Alvin becomes airborne after executing this attack

Dragon Swarm
爪竜連牙斬
Souryuu Rengazan
-
-
-
-
?
?
5
20

attack speed increases after 200 uses

Pulse Shot
ワイドショット
Wide Shot

Stand Up

-
-
-
?
?
5
18

forces downed enemies to stand after 200 uses

Dark Radiance
魔神閃光断
Majin Senkoudan

Aerial


Knockdown
Fire
-
Burn
?
?
2
24

aerial-enabled after 100 uses

Demon Inferno
魔神爆炎斬
Majin Bakuenzan
-
Fire
-
Burn
?
?
3
26
Cross Cleave
マズルバーク
Muzzle Bark
-
Dark
Intelligence
Terror
?
?

4/5/6

28

adds an additional hit after 200 and 400 uses
Charged Artes (チャージ技 - Charge Waza)
Charge (チャージ, Chaaji?) is activated by holding the "Artes" button for a period of time after using an arte. Using any martial arte while Alvin has a charge will change it into its charged form while expending that charge. He also has skills which can allow him to stack more charges and be more flexible in general with them.
Linked Artes (共鳴術技 - Kyoumei Jutsuwaza - "Link Artes")
See ToX - Linked Artes for more information and other combinations involving different characters.
Arcane Artes (奥義 - Ougi)
Arte Name
Enabled Effects
Elemental Attributes
Damage Effect
[2]
Damage Spread
Total Damage (%)
Max Hits
TP Cost
Requirements
Hell Fryer
我流紅蓮剣
Garyuu Gurenken
Knockdown
Fire
Burn
?
?
2
30

attacks faster while the Charge ability is active
Alvin becomes airborne after executing this attack
Mystic Artes (秘奥義 - Hi Ougi)
Arte Name
Elemental Attributes
Damage Effect
[2]
Damage Spread
Total Damage (%)
Max Hits
Requirements
Terminus Pride
エクスペンダブルプライド
Expendable Pride
Fire
?
?
?
8

grants one additional stacked charge
Notes
↑ 1.0 1.1 Sub-Status Attributes: The damage output of each arte is affected by the given parameter. Effects and bonuses that increase the parameter increase damage accordingly. This effect only applies to offensive Bushinwaza (

武身技

?

, "Martial Artes") and derivative arte types.
↑ 2.0 2.1 2.2 2.3 2.4 Damage Effect: The given status ailment has a chance of affecting any enemy damaged by the attack.
↑ TP Cost: The required amount of TP for each component arte is deducted from the user who contributes that arte. Therefore, TP is consumed from both users at the same time to perform any link arte.
References