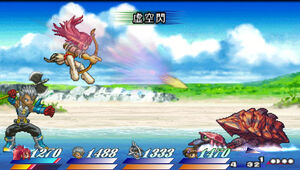 Void Shot (虚空閃, Kokuusen?, "Sky Flash"[1]) is an archery-based arte commonly used by Nanaly Fletcher from Tales of Destiny 2.
Arte Description and History
The arte involves the archer leaping into the air and firing an energy-infused arrow downward at the target. In Tales of the Rays, this arte is Dark-elemental.
Appearances
Original Titles
Crossover Titles
Fan-Translated Names
In-Game Descriptions and Battle Quotes
Tales of Destiny 2
Japanese Description: 空中から高速の矢で敵を狙い打つ特技
Tales of the World: Radiant Mythology
Localized Description: "Arcane: Shoot a high-speed arrow from midair."[1]
Tales of the Rays
Japanese Description:
跳び上がり敵を貫通する矢を放つ
術技強化で空中でも連携可
References